This afternoon was spent cleaning up the walkway from the front of our home to the back. It was sorely neglected due to the fact that we have been away so much since the beginning of June.
But after the all the weeds were pulled and small trees (yikes) removed from the path, I got to thinking about doing something a little more creative with this part of our landscaping. Yes Mr. Rosemary Lane will be absolutely THRILLED beyond belief that I have come up with yet another project for us to tackle.
So I went on-line and googled garden walkways, and here are a few of the stunners I found.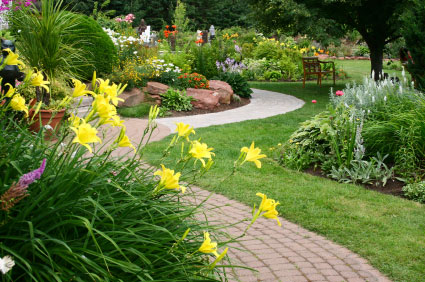 HomeDesign.Com
Spring Valley Farm Garden Tour
Houzz
How about it...aren't they just amazing??? Gosh I was looking for a little inspiration but wow...how could I not be totally inspired after seeing these walkways. Of course we will probably end up taking more of a low key approach to our walkway, but to say the least I am just reeling with ideas based on these fabulous creations.
Maybe you have been inspired too.
Which is your favorite???
If you like this post please vote for 21 Rosemary Lane
by clicking on the picket fence below.