A couple weeks ago I saw this recipe at one of the many Linky parties I was hooking up to and immediately knew my bunch would love it! So I have to say that I have made this not once but three times since finding the recipe, and my kids and hubby are always asking for MORE! But I feel like such a ding-a-ling because I didn't take note of the blogger who posted this fabulous recipe. So if you "Miss Taco Lasagna Recipe Blogger" happen to see this post...P L E A S E let me know who you are so I can give credit where credit is due! I also want to thank you for helping to make my family very happy!
But with that being said...I simply cannot keep this to myself...I must share!

Seasonings...chili powder, garlic, onion powder, salt & pepper, cumin and red pepper if you like it hot!
2 jars taco sauce or you can put salsa in the blender with regular tomato sauce if you don't have any taco sauce on hand
4 cups shredded cheese or taco blend
About 14-15 lasagna noodles
1 cup of tortilla chips, crushed
What you need to do...
1) Preheat your oven to 350 degrees. Bring a pot of salted water to a boil, and then boil lasagna noodles for about 8 minutes

2) Generously season your beef and brown in a skillet. Partially melt cream cheese in microwave and then add to the ground meat and blend.

3) Spray 13×9 pan with cooking spray and then lay out your first 4 noodles lengthwise and then cut one more noodle to fit in perpendicular to the other 4 to completely cover the bottom of the baking dish. Spoon 1/2 of the beef mixture onto the pasta. Pour 1/3 of the taco sauce over the meat, and top with a third of the taco or Cheddar cheese.

4) Make another layer of noodles like the first and then add the other half of the beef, add another 1/3 of sauce, and then another 1/3 of the cheese. Top with last 3 lasagna noodles.

5) Pour the last of the taco sauce on top, then sprinkle on the last of the cheese.

6) Grab a handful of chips and crunch them up on top of the cheese.

7) Bake at 350 for about 30 minutes or until cheese is melted and dish is heated through.
And Enjoy!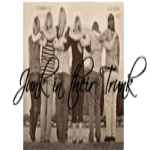 Linking this post to the following parties...