Wow what a way to start off a Tuesday as well as the first day of spring!!!
I woke up this morning to the sound of birds chirruping before coming downstairs to fire up the old computer.(Or "pickyputer" as Grace use to call it.) I opened my emails and found that I received one from Denise over at the blog

A Girl and A Brush

.
And guess what...I won her big giveaway of $50!!!
Wahooo!!!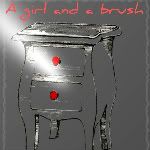 Thank you so much Denise for the awesome gift!!! Now what to do with it. I think it will totally be applied to my office makeover. Remember it is being done on one very thin dime. Just yesterday I was thinking about ordering some chalk paint from Annie Sloan. I also need to purchase some storage bins from Michael's so this money will certainly come in handy!!!
And please make sure to hop on over and visit Denise's adorable blog. She has a beautiful stool makeover you simply must see! You can either click on the link or her button above to get there!!!
Have a great day everyone and Happy Spring!!!