Well here we are in the second week of the Olympic games and today I am celebrating our host country

England

and the

Emerald Isle Ireland

with this yummy classic dish. What makes my Shepherd's Pie a wee bit different is the tarragon in the meat mixture and the Chedder cheese I layer between the meat and potatoes. The best part about this recipe is that it is SUPER easy to make.
3 lbs of ground meat (your choice)
1 1/2 packages of dry gravy (Choose a gravy to compliment the choice of meat you are using)
10oz box of frozen peas and carrots.
1 T fresh tarragon chopped or1 1/2 T dried tarragon
About 5-6 good sized potatoes, peeled and cut into 8ths
1 medium onion, chopped
4 T butter
milk for making the mash potato topping
8 oz (or more) shredded Cheddar cheese
salt and pepper to taste
1 egg plus a few drops of milk
What you will need to do...
Cook meat in a deep skillet until completely browned, then add the frozen veggies and dry gravy mix along with the tarragon and about 1/2 cup of water. Mix until the gravy begins to make the meat and veggies stick together.
Put on a pot of water and add your chopped onion and potatoes. Bring pot to a boil for about 10 to 12 minutes or until the potatoes are very soft. Once soft remove pot from the stove and drain the water. And the butter and let it start to melt, then using a hand mixer, begin to beat the potato onion mixture and add your milk a little at a time. Beat until the potatoes have a nice whipped consistancy. Season with salt and pepper.
In an oven proof casserole dish, spray the inside with cooking spray and then add the meat mixture. On top of the meat spread the shredded Chedder cheese, and then put the mashed poataoes on top of the cheese layer. Beat the egg with a little milk and using a pastry brush, spread the egg over the top of the potatoes.
Place in oven heated to 350 degrees F and bake for 40 minutes or until there is a nice golden color to the top of the potatoes.
Now dig in with a large spoon so you can capture all the levels of yumminess.
And that's my Shepherd's Pie recipe...see it was as easy as...mmm...PIE!
Current olympic medal count as of today for team USA
The USA is currently behind China in the medal count but there are 84 medals up for the taking in upcoming track and field events, with 28 of them being gold!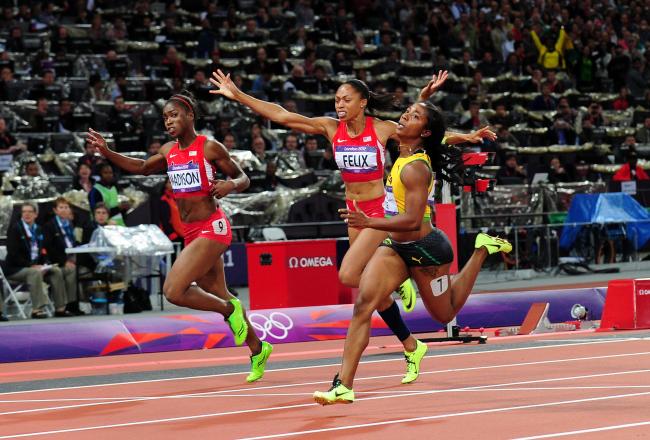 (photo from Bleacherreport.com)