Several years back, before the kids came along, my husband and I decided to take a trip up to Toronto Canada by way of the upstate New York wine country. We stayed at B&B's along the way, and one of the places we spent a night was at
Lady of the Lake
in Skaneateles, one of the finger lakes in New York. A delightful retired German couple owned the B & B and for breakfast we were served this pancake, I have to say it was divine.
The owner gave me a copy of the recipe and I just couldn't believe how simple it was to make. This pancake is very moist due to the eggs and fruit. Each pancake is made one at a time, but they are worth it! I used berries but you could also fill the center with apples, brown sugar and cinnamon or even fresh peaches with a little white or brown sugar.
What you will need to make this recipe...
And here is what you need to do...
Melt 1 tsp of butter in an oven proof 8" or 9" pan and coat the bottom and side with the butter. (I used a cast iron skillet.) Whisk all ingredients together and then pour into the pan. Add the fruit of choice to the center and bake in the oven set at 450 degrees for 15 minutes.
Remove from pan and at let sit for one to two minutes. (Don't be alarmed if the pancake looks huge, it will deflate.) Sprinkle with confectioners sugar and serve.
XO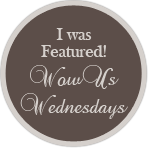 This post was featured January 10th 2012 at Savvy Southern Style
This post has been linked to the following parties...