Time and time again I have seen many of you creative blogoshere ladies post the most beautiful free Printables, so today I decided to get in on the action and finally try my hand with

Picnik

. Thanks to

Thrifty Decor Chic

Sarah and her super easy tutorial, I created, albeit a bit primitive to most of you, this winter printable.
I have to say that Picnik is fairly easy to work with, even for the technically challenged like myself. Actually it is somewhat similar to manipulating photos in word. It was also very fun to do. If you would like this printable it is yours for the taking...just click on the image below and you will be taken to Photobucket where you can upload the image to your own computer and print off. Just remember to choose "Fit to Frame" on your compiter before you hit the "print" button.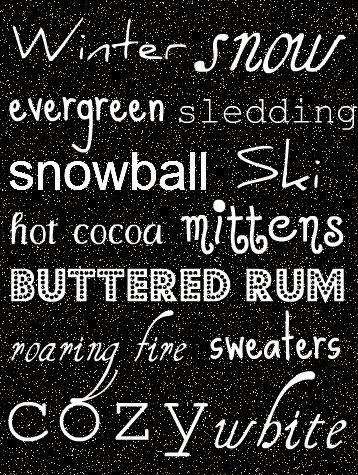 You'll notice I had to use practically every free font available to me just to see what they look like! It only took about 20 to 30 minutes to create this tremendous work of art of which I am sure you all are just clamoring to print off at this moment. (Ha Ha Ha) But really, I am pretty excited about playing around with Picnik to see what else I can create! Most likely I will end up upgrading for the $24 per year, but still that is relatively inexpensive.
This post is linked to the following parties...