I made these 2 new "Love" Printables specially for you for
St. Valentine's Day! I must admit...I do "love" to make these!!! Since we celebrate love on February 14th I thought what better way to express love than with my favorite bible passage and one of my favorite quotes all about love.
This Printable passage is from First Corinthians...should be familiar to most of you!!!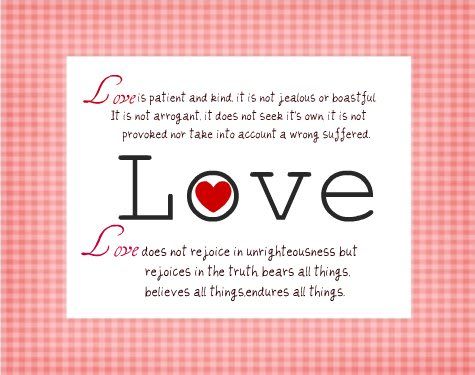 This second printable is a quote by Franklin P. Jones who was born and died in the 21st century. He worked as a Philadelphia reporter, public relations specialist and humorist. Many of Jone's quotes and quips were published (often anonymously) in publications such as Reader's Digest and the Wall Street Journal.
Please feel free to upload either one of them...they are free!!
(OK...I think I may be secretly addicted to Picnik.)
Sharing this post at the following parties...